Estimated reading time:
2 min
When you click on your bio link, you will see the page below where you can configure your bio link page with all the available options:
You will see big "Settings", "Links" and "Add block".
Short URL
Here you can choose or change one of the domain names we offer to be attached to your bio link page:
artisbiolink.com
artistbio.link
artbio.link
artbio.me
artistbio.me
Next you can change your artist name.
Remember, when you change this, old one won't work anymore. So best to change it when you did not place your bio link on socials yet.
Project
You can choose any Project that this artist belong too. More about Projects in here.
Your Avatar or Photo
You can upload your photo, avatar in here. This image will be displayed 125 x 125 pixel. So do not upload anything lower than this. Also you can not upload images more than 1 MB. The smaller is better so your bio link page will load faster for your visitors.
Title
Your artist title goes in here.
Description
Anything you want to write about yourself goes in here.
Display Verified Checkbox
This will add verified artist checkbox on your account. This is available for paid accounts.
Text Colour
This will be the colour for your Title and Description text.
Background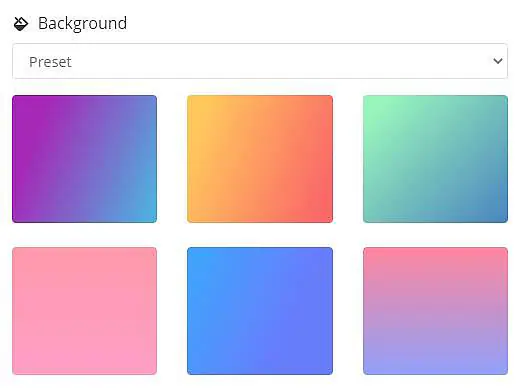 Here you can choose:
Presets (ready to use backgrounds)
Build custom gradient
Choose custom colour
Or upload an image as your background of bio link page (uploading image must be lower than 1 MB)
Leap Link URL
You can redirect all your visitors to your bio link page directly to this URL. Available for paid accounts.
Branding
Here you can remove our branding text at the bottom and include your branding. This option is available for some paid plans depending. For example record labels can display their artist branding.
SEO
On this section you can adjust settings for search engines to get better placement on their searches.
You have a few options on here:
Block Search Engine Indexing: With this option you can block your bio link page from being indexed by search engines. Not sure if you really need that but option is there if you want to use it.
Page Title: You can completely change your page title to something you want by editing here.
Meta Description: You can change meta description of your page for search engine indexing in here.
Open Graph URL: Set a custom OpenGraph (Facebook and Twitter) Image for your bio link page to display a link preview. You can upload up to 1 MB image. The suggested size is 1200 pixels x 627 pixels (1.91/1 ratio). Here is some more info about OpenGraphs on an external source.
SEO settings are available for paid plans.
UTM Parameters
By adding campaign parameters to the destination URLs you use in your ad campaigns, you can collect information about the overall efficacy of those campaigns, and also understand where the campaigns are more effective.
utm_source: Identify the advertiser, site, publication, etc. that is sending traffic to your property, for example: google, facebook, newsletter, billboard.
utm_medium: The advertising or marketing medium, for example: CPC, banner, email newsletter.
UTM Parameters are available for paid plans.
Socials
Here you add links to your social profiles. You can only add your account username, not the full URL.
More information on adding socials can be found in here.
Fonts
You can choose the Font you want to use on your bio link page.
Protection
You can add a "password" to enter your link. So anybody that wants to see your link need to enter this password.
You can add "Sensitive Content Warning" with this checkbox.